Coating Pretreatment tunnel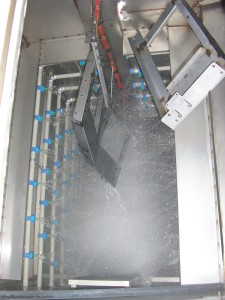 Our production line includes both the pre-treatment spray tunnel that pretreatment through immersion tanks. The chemicals used during the various stages of the process are directly formulated by Dollmar Laboratories.
The pre-treatment systems designed by Dollmar Meccanica can be integrated with PROMETEUS modular processes, a particolar application technology that works with nanotechnology Dollcoat SA patented Dollmar in order to increase the corrosion resistance of the coating applied, thus constituting an advantage both in terms of quality with respect to environmental traditional surface treatments.
The pre-treatment lines and processes studied by the Group Dollmar allow excellent results on many surfaces such as aluminum, crude steel and galvanized.