CRS Cristina Rubinetterie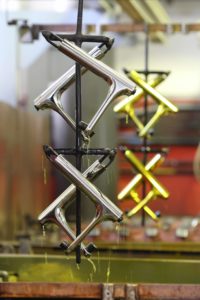 Founded in 1949 by Ezio Cristina, Cristina Rubinetterie began as a small familiar company to become today a point of reference for the "Made in Italy" in the fittings sector. Located in Piedmont, in the industrial district of Italian taps, it has always been linked to the decision not to relocate. This feature brings the CRS group to develop the entire production process in the Italian plants.
The group is known worldwide for sanitary taps in brass and stainless steel AISI 316. In addition, the Silfra brand manufactures electronic faucets, automatic timed and home automation systems.
The basis of everything: minimalist design
Minimal design, clean lines and attention to the environment are the strengths of Cristina products. With curiosity and attention to the detail, the CRS Group has always anticipated trends: from the explosion of color of the '70s to the most classical minimalism. The hallmark of the company is to see the bathroom as a living space at 360 degrees for daily wellness, not just as a local service.
The complexity of the production cycle
The production cycle is spread over 5 different establishments all in the province of Novara just a short distance one from each other. Most of the components are machined internally, while only the brass bars are purchased from outside. The turning, where are performed all mechanical processing, is divided into three departments (CNC machining centers and transfer). The manufactured products are checked at intervals of an hour, including the sealing of the machined blank. In the next processing step we find the washing process. The cleaning of the product is crucial both in the case of a final washing that in the case of a interoperational cleaning. Pollutants to be removed are emulsions and swarf, dust particles and the acidic impregnating residues.
The importance of the washing system
For over 10 years, the company Cristina Rubinetterie relies on the guarantee of Dollmar Meccanica washing machines. Given the increasing volumes has increased the need to have a washing system created ad hoc. In fact, the new washing system is fully automated with an anthropomorphic robot with 6 axes for the loading and unloading of the baskets. The automation allows a range of one and a half hour of autonomy on unmanned products. In the future they want to implement the work automation also during the night processing stage, ensuring autonomy for nearly eight hours. Also, the machine frame is designed to achieve excellent results both in bulk cleaning and with positioned cleaning.
The adaptation of the production system based on the new washing system has allowed the company to reassign the professional roles to operators who previously were not valued in correctly and to outline an orderly and strict production system, in which all employees can find the ideal working conditions.
Extract from ICT n°6 – september 2016 >>> download the full pdf