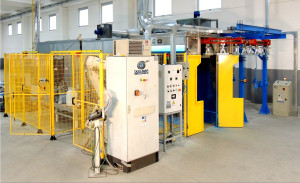 Medana & Visca Srl, a company that operates since 1951 in the production of industrial valves and actuators for the naval, chemical, petrochemical, Oil & Gas and Off-shore installations.valvole
Having to renew their establishments Medana & Visca has completely reinvented the paint department so as to automate the application of the coating and at the same time comply with regulations on emissions. Modify the entire plant structure has allowed to renew also the type of paint, passing from a solvent-based coating to a bi-component water paint, which is applied by anthropomorphic robot with electrostatic spraying technology.
The problem to solve
change the layout of maximizing production efficiency
comply with new regulations on VOC emissions
automate the process of painting
increase the production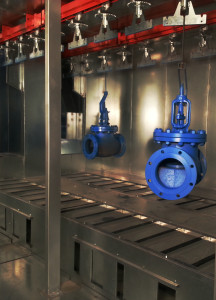 The system includes a spray booth with dry abatement, a drying tunnel and a baking oven. The electrostatic automatic paint application occurs at room temperature in a period of time ranging from 3 to 5 minutes, depending on the sizes of the valves to be painted. This system has been designed so as to comply with the latest regulations regarding VOC emissions (Volatile Organic Compounds) of the Piedmont Region which specify at 10% the maximum concentration of solvent in the coating material.
For more information on the plant or to explore the applications of cleaning solutions tailored by Dollmar Meccanica do not hesitate to contact our office at
info@dollmar.com o at the number +39 02.95.09.61.273
Retrieved from "IPCM®, International Paint & Coating Magazine" -2014.