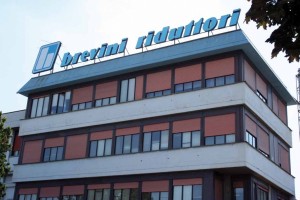 Inter-operational pre and post nitriding washing and pre-treatment: Brevini's experience
The firm
Brevini Power Transmission is an important group in Reggio Emilia made up of a number of firms. It produces power transmitters which export worldwide and is in 4th position in the international classification of the sector.
Its reducers are destined to those sectors where heavy masses are used: for instance in excavation, in naval environments for docking ships to quays, in railway and road engineering for the realization of tunnels.
The problem to solve
The constant increase in production volumes underlined the necessity to solve two problems: to speed up processing times and degrease perfectly the surfaces of the pieces, ready for the next process of nitriding which gives the metals a better hardening and for which it is essential for them to be perfectly degreased.
The Dollmar Group solution
Hence a Finep combined spray/immersion washing system was installed with feed pace able to cope with the increase in productivity.
The new system (working with Dollclean AD 104 additive and Dollclean P 230 alkaline application) is realized in two stations for manual loading and unloading, a combined spray/immersion washing tunnel with a step by step feed composed of 3 tanks, plus a hot air drying chamber for 48 mins of the total working time.
Given the speed of the process, a final wash is carried out which permits storage of the pieces even for lengthy periods, thanks to the protection offered by the washing cycle application.
Conclusion
By optimizing the relation between the plant system, cycle and product used, the result excelled expectations. The solution was successfully studied by the Dollmar Group's laboratories.