Company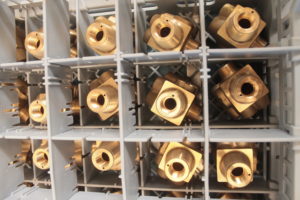 MG Meccanica was born in 1988 in Brescia metallurgical district as a third parties company that deals in molding and processing of non-ferrous alloys and metals. Currently the company has 80 employees and three production sites with a total area of 11,000 square meters. After entering immediately into the German market, currently 90% of the clients of MG Meccanica is located in Germany.
With the introduction in the production flow of increasingly complex valves has arisen the need to integrate the production system with a new washing line for the printed brass.
The production flow
Following the molding process, the pieces are sent in the heart of the machining department composed of transfer machines realized depending on the processing needs. The washing line working with water and detergent installed by Dollmar Meccanica enters the scene when the worked pieces require more advanced technological performance, as in the case of special valves for fire-extinguishing systems or for the automotive industry. The washing plant is a multi-tank system with automatic loading of the workpiece carrier baskets. The first station includes a washing step with turbulence, while the second tank is static in order to allow the ultrasonic cleaning. The pieces then pass through two stages of rinsing with tap water, a demi rinse to finish in the drying oven.
Thanks to the Dollmar Meccanica washing system, the company has achieved a higher level of cleanliness and, thanks to the special baskets, has eliminated the friction between the surfaces of the components during washing.
The added value of choosing a Dollmar Meccanica washing plant is the ability to offer the customer not only a tailor made washing system but the integration of the washing system with a product suitable to the required washing.