Copra Precision Metal Parts
Copra Precision Metal Parts produces a wide range of specific metal components for different industrial sectors.
The company has recently expanded the type of materials processed also to brass and stainless steel, which require a more complex surface treatment.
Therefore, the washing process is crucial and special attention is needed to stand out from the competition. Therefore Copra, at the time of the introduction of a new washing plant, chose the modified alcohol technology.
The washing system has been set up with 5 different programs to meet the different needs related to the characteristics of the materials, the high number of parts and the conformity of the parts. A washing cycle has an average total duration of 16 minutes and performs 3 washing cycles every hour. The machine works for 7 hours a day performing 4 short distillations every hour.
THE SOLUTION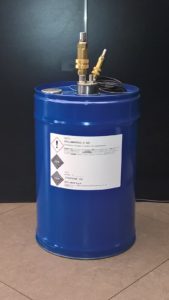 Thanks to the multi-year collaboration with Dollmar Group, Copra has chosen to use the product Dollmarsol G 120®, modified alcohol distributed by Dollmar, in the new washing plant.
Copra considers it strategic to turn to a single supplier for the supply of both lubricating oils for mechanical processing and washing agents.
This choice entailed the perfect calibration of the production processes from the point of view of compatibility of the chemical substances and led to obtaining a high effectiveness of the washing operations.
In addition, Dollmar, which carefully monitors all its markets' needs, has introduced the 25 kg drum with the Safety FX safety device that can be used on all washing systems designed for the use of modified alcohols.
To read the full article download the PDF.
To find out more, do not hesitate to contact us: marketing@dollmar.com
Extract from ICT n°48 nov/dic 2017