Tornova Srl: precision turned parts
Dollmar and Tornova Srl: a collaboration established over time
Tornova Srl,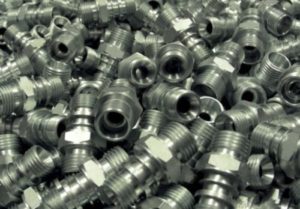 a company specialized in the field of precision turning of metal components, has been operating since 1976 for several industrial market.
In the Lissone (MB) establishment of almost 3000sqm, it uses a machine fleet of more than thirty lathes.
Thanks to that, they are able to satisfy all possible needs of their customers, mostly international, regarding to the size of and quantity of batchs.
The meeting with Dollmar started in the 90s, when Tornova was in the need of a faster and more effective washing machine, and bought from Dollmar two metal washing systems, still used today.
Partnership reinforced during the Tornova's turning machine problems found out about 3 years ago. Specifically, they used product that released an oily deposit on each processed material, affecting the healthiness of the environment.
Dollmar technicians, after specifics analysis, have identified the MotulTech Supraco range of whole oils for metal processing as the most suitable choice for such problems.
In particular, the Supraco 4000 family specifically created to withstand extreme stress generated by intensive use that includes dual-purpose products, cutting and lubrication.
Nowadays, Tornova utilizes, with great satisfaction, two types of oil from the Supraco line.
A whole multimetal cutting oil, Supraco Evo 420, characterized by a high lubricating power and resistance to extreme pressures, and a high flash point.
The second, Supraco 4040, is a whole oil that can be used as a cutting and lubrication mix, which has excellent wettability and stability during application.
The over time consolidated partnership, thanks to the product offered but also the constant and qualified service of Dollmar technicians, has guaranteed to Tornova the maintenance of its own machine tools performance and consequently a high level of benefit in the production process.