BTB Transfer: FINEP washing tunnel
Dollmar Meccanica, through the FINEP division, has designed a washing tunnel for a customized transfer machine dedicated to the automotive industry.
The Company
BTB Transfer based in Bovezzo, is one of the leaders of machine tool manufacturers in the Brescia area. Transfer machines, the result of BTB production, are used in a growing number of industrial sectors, from the petrochemical industry to household appliances, from fittings to the automotive sector.
The washing process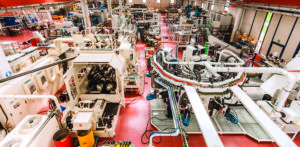 The collaboration with Dollmar begins with the request that BTB received from an important customer in the automotive sector based in Brazil. The customer required not only a transfer machine but an full process of machining and washing. Among the various requirements there was the need for a continuous, single-phase washing with a cycle time of 9 seconds, with a product that could be not only degreasing but also protective. Therefore BTB, given the specific request, identified Dollmar Meccanica as the ideal partner for the complex project requested by the Brazilian customer.
The solution
Dollmar Meccanica has therefore developed a spray washing tunnel with step advancement. Specifically, at the end of the manufacturing process the components are turned upside down on a vibrating belt.
In the washing tunnel there is an optical device that recognizes the single metal parts. The components, then, undergo a laser marking, which guarantees to be able to monitor the progress of the process in the FINEP washing tunnel.
Finally, in the last part of the washing process a cooling station is inserted which guarantees the final piece not to undergo dimensional alterations. This is because all the components are subjected to dimensional control after washing, therefore the temperature of the pieces in output must not compromise the dimensional values.
The spray washing tunnel and other devices are interconnected according to the logic of the industry 4.0.
Watch the video of the washing tunnel: VIDEO BTB – DOLLMAR