ZF TRW Automotive: Cleaning for Steering Systems
The company
TRW Automotive of Gardone Valtrompia is one of the Italian plants of the American multinational engineering company TRW mainly devoted to the production of components for steering systems. Since 2015, TRW has been acquired by ZF, a German giant in the manufacturing of components for transport systems.
The Italian plant of Gardone has evolved starting from the processing of manual guides in the 70s up to the production of electric steering systems. Nowadays, 50% of its core business concerns the processing of steel and aluminium to produce sub-components of steering gears and electric power steering
(EPS) systems.
The problem to be solved
TRW has recently introduced the processing of a new component, part of the steering EPS gearbox. This product has several blind holes, in which the scraps of mechanical processing and processing oils are deposited. According to the typical automotive standards, the washing system that TRW used untill then was not able to eliminate all the residuals trapped in the blind spots of the new piece.
The solution
Dollmar Meccanica has designed a fully automated overturned conveyor tunnel. The tunnel is equipped with mobile spraying masks and targeted jets that allow all the critical points to be reached. It is equipped with a first degreasing phase, an intermediate phase of dripping followed by a rinsing, a drying phase with hot air and blowing with compressed air at room temperature. The final stage is the recirculating air cooling station. It employs a detergent solution that degreases and protects the piece and is heated to 50°C to avoid color variations in die cast aluminium.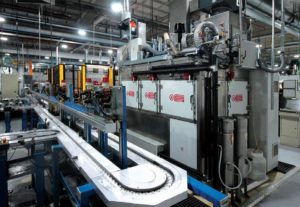 The processing pollutants are mainly cooling lubricants and small quantities of neat oils as well as metal swarf, collected by bag filters positioned on the back of each tank. The particularity of this tunnel also lies in the separation of treatment stations by automatic doors to avoid any type of contamination from one station to another.
TRW Automotive has achieved its objectives in terms of perfect cleaning and protection of manufactured parts thanks to this tailor-made tunnel, perfectly integrated into a robotic island, which operates at full capacity in total respect of the surrounding environment.