Belt tunnel for interoperational washing
Technical Description: degreasing and rinsing spray Area
No. 3 treatment stations, the first two dedicated to degreasing spray, while the third is for the rinsincing of the pieces. After the areas dedicated to degreasing and rinsing, two stations designed to drain the solution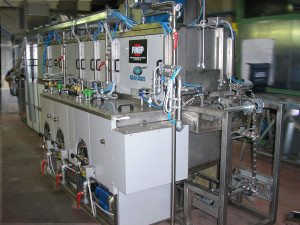 previously sprayed are placed, separated by electro-pneumatically controlled doors, with up and down in sync operations with "step by step" advancement of the carrier.
The tunnel is made of stainless steel sheet and section steel reinforcement with side doors to allow inspection and maintenance.
Working with the range of water-based products made by the parent company Dollmar Spa.
The range of products is entirely dedicated to washing plants created over the years according to the different needs encountered among our customers. The in-house laboratory researches and develops new formulas every day.
All the design and construction of the tunnel is carried out completely by our plant engineers.
To get further details and the most successful fields of application, please contact us: WRITE US