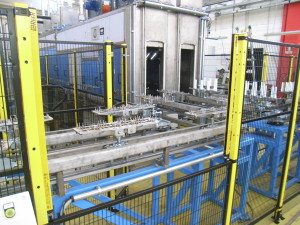 Researching a better functionality and flexibility in washing equipment,  Dollmar Meccanica designed a line of overturned conveyor washing tunnel.
This particular plant is able to solve  cleaning problems more and more specific and to improve the quality of the pieces after surface treatment. The great functionality of the overturned conveyor washing equipment it shows thanks to the fact that the treated manufacts' flow can be multi-directional  on a constant gliding support.
Considering that this kind of industrial washing system is usually placed into rapid productive processes with strict deadlines for for every
production, the fact that the section inbetween the loading and the unloading areas is adaptable to suit the logistic needs of the department, can be an enormous advantage.
These plants satisfy completly the needs of the manipulation of  the pieces before and after washing that requires a single loading and unloading station. Another aspect, which enables excellent washing results,  is the fact that the treated pieces are placed on a predetermined wheel base: the single pieces are hold  in one point only which means that the entire surface is free from obstacles during the mechanical, thermicall and chemical spraying process.
The overturned conveyor cleaning system is generally designed with interchangeable or "multi-purpose" pieces holders so as to be able to receive pieces of varying morphology. Since that during the washing process the pieces cannot be in contact with one another, these machines are highly suitable for the washing and finishing of particularly delicate pieces.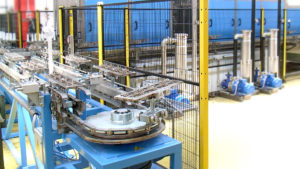 Another aspect which makes this equipment typology so flexible is that the pieces can move continuously or intermittently. Furthermore the overturned conveyor cleaning plant can be equipped with workpiece carriers, that can be fixed or rotated at 90° at every step or constantly, depending from the production's needs.
The totality of these aspects permits to wash the pieces through "dart" type nozzles for delicate washes dedicated to particularly difficult parts like for example the blind holes. In many cases, when different pieces' types need to be treated without rearranging the spraying system, the nozzle-carrier ramps are positioned on an oscillating ascent/descent system via motor-reducer. Besides guaranteeing excellent washing of the pieces, this particular washing solution allows them also besubjected to a blowing systems.
For further details write us at info@dollmarmeccanica.com