Dollmar Meccanica designs and manufactures water-based washing plants according to the customer's specific needs.
Through the acquisition of Finep develops pretreatment and degreasing solutions fully respectful with European regulations on safety and environment.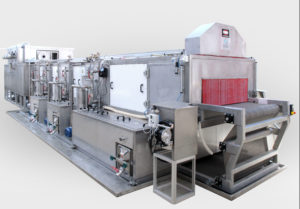 The whole range of water-based systems is divided in:
CONTINUOUS SPRAYING WASHING
DISCONTINUOUS SPRAYING
HIDROKINETIC WASHING PLANTS
MULTI-STAGE IMMERSION EQUIPMENT

The offer is completed by the range products such as DOLLCLEAN (degreasing and passivating) and DOLLPHOS LINE produced by the holding company Dollmar Spa.
What makes the Dollmar group unique in the industrial washing market is the ability to develop not only the machine but also the chemical product best suited to the required washing.
With the experience gained since 1979, Dollmar has been developing high-tech projects as to meet the different finishing needs in plenty of industrial sectors: automotive, aerospace, oil&gas, heat treatment industry, hydraulic components.
Discover our Finep water based washing plants or ask for a free consultancy.