Vacuum closed-loop cleaning machines working with solvents:
• hydrocarbons (Dollmarsol K® and Dollpar G® Line),
• modified alcohols/glycol ethers (Dollmarsol G® Line).
Configurable depending on the number of baskets (1 to 4 standard baskets) and the maximum load (50 to 200 kg).
Optional: ultrasonics systems and automatic load systems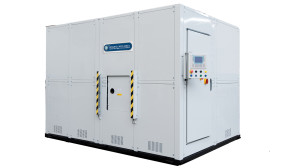 MAIN APPLICATION
Precision mechanical parts, electronics, automotive, aerospace, precious metals.
FUNCTIONS
Ideal for removing large amounts of pollutants such as oils or metalworking swarfs from different types of materials (brass, steel, iron, aluminum, zinc alloy, precious metals).
PRODUCTIVITY
Very fast washing cycles with productivity depending on load and baskets number.
Configurable to work on three shifts, 24 hours a day.
MAINTENANCE
Specific management plant systems set electronically that allow an easy maintenance with the possibility to perform
operations with the plant in use.
EFFICIENCY
Reduced product consumption thanks to the continuous phases of distillation and to the efficiency of solvent recovery during the drying phase.
SAFETY
High safety for the operators thanks to sophisticated control systems of temperatures and pressures.
No heating source is in direct contact with the solvent; an important innovation to assure a safe operation of the plant.
For further information please contact us