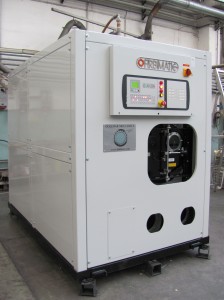 Among Dollmar Meccanica washing plants, DM Logica and DM Logica V Series represent the rational and effective solution that assure excellent results for the typical mechanical processing.
These models are characterized by the union of different washing solutions (spray, immersion, steams) and work with super-stabilized perchloroethylene (Soltene and Pertal line).
For any component to treat, Logica series offers the most suitable cycle: from simple degreasing to more accurate washing, from the cleaning and removal of contaminants on flat surfaces to removal of debris in cavities or blind holes, ensuring in all circumstances the degree of cleaning and drying time required.
The DM Logica plants features:
the piece trays can rotate in both clockwise and anticlockwise directions and at the desired speed, depending on the specific need
washing can be hot, cold or immersion with the ultrasounds option
ambient pressure drying or in vacuum drying (DM Logica V).
For further information please contact us