Carrousel washing machine
d
The treatment tunnel and most of the structure is made ​​of AISI 304 stainless steel sheet and with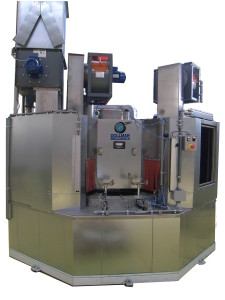 reinforcement profiles. The sidewalls are insulated with rock wool panels with a compact structure with density Kg.80/mc and thickness mm.50.
The washing of the pieces occurs through a series of jets distributed so as to totally cover the special treatment, in a differentiated manner in each of the stations provided
The tank is located under the treatment tunnel is constructed with AISI 304 stainless steel sheet 25/10 thick suitably reinforced with steel profiles.
FILTRATION SYSTEM

OF

CLEANING SOLUTION
BLOWING

WITH

COMPRESSED AIR

NETWORK

(

AISI 304 stainless steel)
INSULATED

DRYING

 

OVEN

(

AISI 304 stainless steel)
CAROUSEL

 

WITH

DEDICATED

PALLET

FOR THE PIECES T

O BE TREATED

(

AISI 304 stainless steel)
Type of material to be treated: DIE CAST ALUMINUM  PIECES AFTER MACHINING
Possible connection to automatic loading and unloading system